Car Seat Safety
July 14th, 2015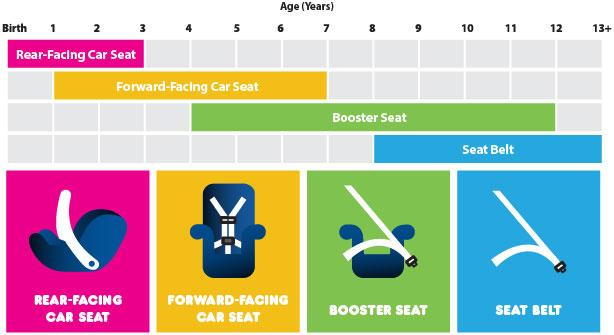 Choosing the right car seat for your child can be a difficult task, we understand! Our goal is to make your life easier and provide you with reliable resources to help choose the right car seat for your child.
Find the Right Car Seat for YOUR Child
Your child's age, height and weight will be important when choosing the appropriate car seat for your child. Once you have their most recent height and weight use http://www.safercar.gov/cpsApp/crs/index.htm to help determine the correct seat for your child. Check out the different types of car seats below:
Types of Car Seats
Rear-Facing Car Seat

From Birth – 12 Months your child should ALWAYS ride in a rear- facing car seat
Rear-facing car seats should be used as long as possible. They are the best way to keep your child safe. Use this car-seat until your child exceeds the top height and weight limits for the car seat
Forward-Facing Car Seat

Once your child outgrows the rear-facing car seat your child will need to travel in a forward-facing car seat with a harness
Keep your child in this seat until they outgrow the top height and weight limits
Booster Seat

Your child should only start traveling in a booster seat when they are big enough to fit in a seat belt properly
While in the booster seat the lap belt should fit snug over the upper thighs, NOT on the stomach
The shoulder belt should fit snug across the shoulder and chest, NOT on the neck or face
The booster seat should still be in the back seat
Seat Belt

Your child should only start using a seat belt when they have out grown their booster seat and fit snugly in the seatbelt
Your child should still ride in the back seat, this is still the safest place for them
Install the Car Seat Correctly
It is essential for your child's safety that the car seat is installed properly. Read the manufacturer's instructions carefully.
The car seat should not move more than one inch from side-side and front- back
Stop by the local fire department or police station they will check to make sure the seat is installed properly
Make sure you strap your child in correctly too, again refer to the manufacturers instruction
Register Your Car Seat
Registering your car seat online is important to make sure that you are notified of any safety recalls. You can also sign up to receive booster seat recall emails at In addition to registering your car seat, sign up to receive e-mail alerts about car seat and booster seat recalls at: http://wwwodi.nhtsa.dot.gov/subscriptions/index.cfm
Want to learn more about car safety? Check out this site:
http://www.safercar.gov/parents/index.htm
Remember, we are always here to help!
Healthy kids = Happy Kids!
Source: http://www.safercar.gov/parents/CarSeats/Car-Seat-Safety.htm